Climate equipment
AIR CYCLE ATT HVAC SYSTEM
Regardless of the design or application, industrial air cycle ATT HVAC systems have always been operated under severe conditions.
Today, market and regulatory conditions are becoming equally difficult. The equipment must meet the requirements of labor protection, environmental safety, energy efficiency and productivity.
Air-climate systems produced by the UPEC Industrial Group are the development of their own engineering centers, new generation climate systems operating on such safe natural refrigerant as air. They offer innovative engineering solutions and modern designs. These solutions allow the production of more efficient and energy-efficient climate systems with improved performance characteristics for industrial, storage, hotels and public places.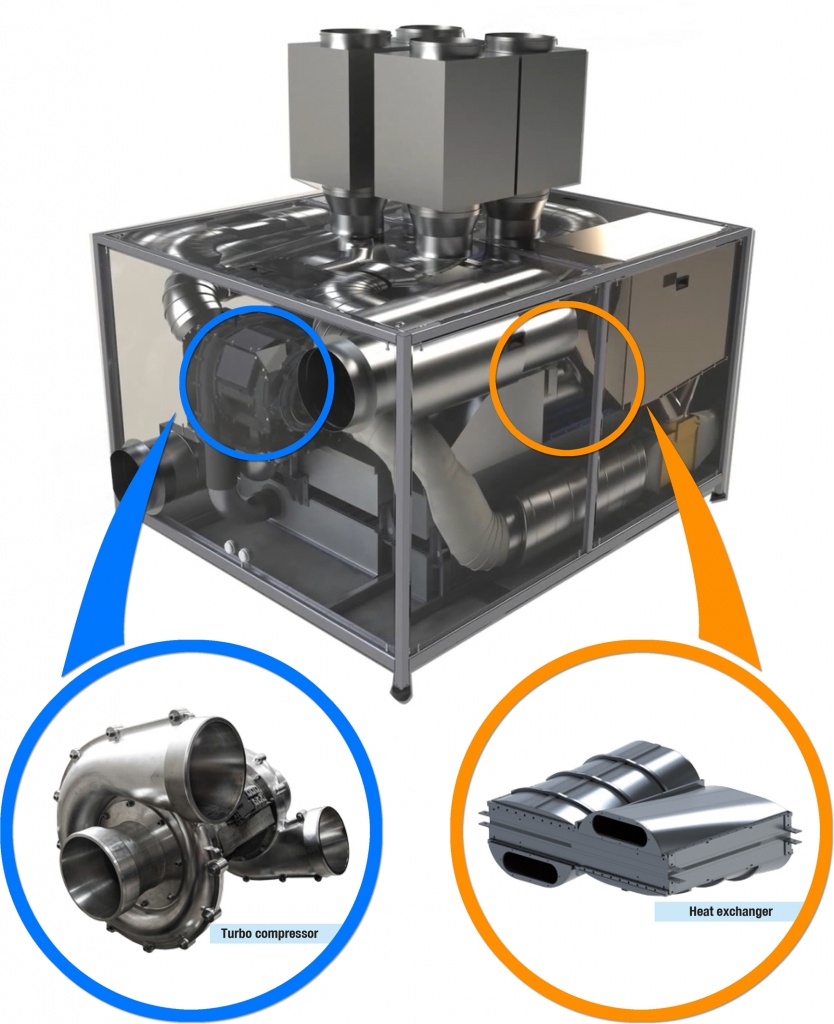 Our combined climate system is an all-mode reversible heat engine operating in the summer (t = + 27 ... + 50 ° C) as an air conditioner, and in the winter (t = -50 ... + 7 ° C) as a heat pump, as well as in ventilation mode. While common climatic systems use a "third-party" working medium (freon, water, ammonia, CO2, etc.), developed in the UPEC, technology uses ordinary air as a working media. This greatly expands the operating temperature range. In addition, due to the use of aerodynamic bearings in the system, there are no oils or greases, which, undoubtedly, gives the unit the status of an environmentally friendly climate unit of "green energy". It is also unique that when the outside temperature is lowered, the conversion coefficient and the heat and cooling capacity of the VCS increase, while for the freon technique these important indicators deteriorate substantially.

Warranty period: up to 2 years
Resource: up to 10 years
During maintenance does not need oil
Do not use freons, coolants.
The working body is air
Does not need drainage in the summer
Does not need "winter package" in the additional system
Additional option: water heating in the summer
For heating with simultaneous ventilation of residential, industrial, office, commercial and warehouse premises, as well as fixed facilities, the UPEC Industrial Group offers an air cycle ATT HVAC system. It operates using a similar energy-efficient environmentally friendly technology. High energy performance of air cycle ATT HVAC system is provided by unique, highly efficient heat exchanger and turbocharger, as well as low aerodynamic resistance of valves and air ducts.
MORE
BACK